"He's one of my favorite musicians in Southern Illinois and such a perfect example of the kind of talent that can be found around here."  -Sad Max, River to River Community Records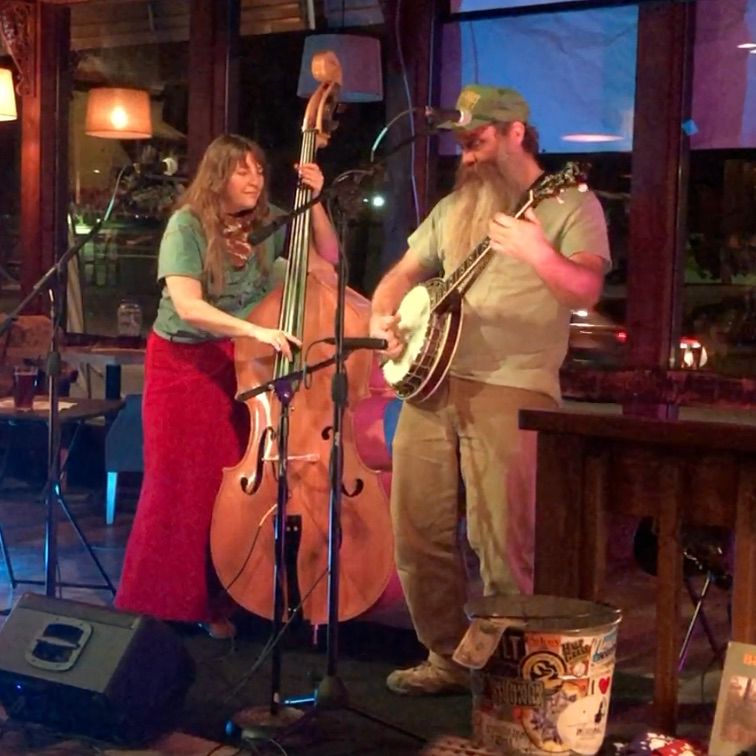 Banjo Joe and Danielle
Acoustic instruments and vocal harmonies
Banjo Joe and Danielle are a bluegrass/folk duet from southern Illinois performing original songs and old time classics on banjo and upright bass. Banjo Joe's powerful tenor voice is strong and clear, sweetened by Danielle's harmonies. Banjo Joe is also the lead singer for Whistle Pigs and has been a singer/songwriter/banjo player for over 15 years. The talented Danielle makes her debut with this duo.
Banjo Joe and Danielle have been sweethearts since they met in 2011. They both come from musical families and are self taught. They first started creating together as vloggers on their YouTube channel, The Banjo Joe Show. Then, in the summer of 2021, they decided to combine their musical talents with Danielle now on upright bass. Danielle had always dreamed of playing with him and now that the duet is formed it is proving to be just the right thing, providing the basis for old time music-the natural tone of acoustic instruments accompanied by vocal harmonies.
Banjo Joe was given a banjo by his grandpa in the early 2000's along with the advice to "make it ring" and began writing songs about southern Illinois, being broke, drinking and his new friend, the banjo. In 2007 he helped form the band Whistle Pigs as the lead singer and his songs became their first two albums, Long Term Plan, 2009 and Bless Your Hearts and Livers, Mudstomp Records 2010. They toured extensively through 31 states for several years playing thousands of shows at venues large and small. In 2014 he made the difficult decision to step back from performing and writing and went on to successfully face the demons of alcohol abuse and depression. Four years later he made his comeback and released his first solo album, Im Just an Old Hobo (River to River Community Records, 2020)
Banjo Joe and Danielle are currently converting a school bus into a home on wheels, creating videos, writing and making music, and playing gigs as much as possible. They are part time nomads and have travelled over 100,000 miles together around the USA, mostly in their self converted solar powered camper van. Check it out on https://www.youtube.com/c/TheBanjoJoeShow.
Banjo Joe Interview w/ Activator Magazine!
Press Photos